US-UA Security Dialogue XIII
March 3rd, 2022
Washington, DC
US-UA BNS (Forum XII)
April 30th, 2022
New York City
US-UA WG Yearly Summit
June 16th, 2022
New York City
(Webcast)
PROGRAM DETAILS
US-UA Energy Dialogue VIII
August 2022
Washington DC
UA HES Special Event:
Ukrainian Experience in 1942/
80th Year Retrospective
September 24, 2022
Ukrainian Institute of America
UA QUEST RT XXIII
October 12, 2022
Washington, DC
(Webcast)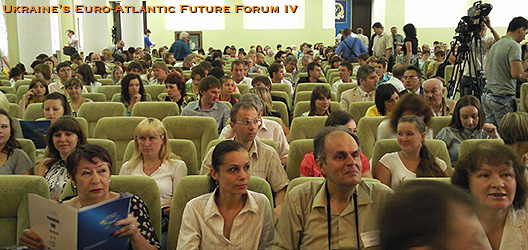 The Center for US-Ukrainian Relations (CUSUR) has been designed to provide a set of "informational platforms" or venues for senior-level representatives of the political, economic, security and diplomatic establishments of the United States and Ukraine to exchange views on a wide range of issues of mutual interest and to showcase what has been referred to as a "burgeoning relationship of notable geopolitical import" between the two nations.
Five such "platforms", the UA Quest Roundtable Series, the UA Historical Encounters Series, the US-UA Security Dialogue Series, the UA-US Business Networking Forum Series and the US-UA Energy Dialogue Series—planned as annual events, intend to review everything from joint operations by US and Ukrainian armed forces to the creation of "bilateral strategic plans for energy diversification".
The Center also hopes to track the progress of Ukraine's broader professed "Euro-Atlantic" ambitions—or, more precisely, monitor the pace of Ukraine's NATO and EU accession process, though obviously in the context of the stated US-Ukrainian partnership. To facilitate the tracking, the Center intends to run a sixth conference series, to be held in various Ukrainian cities and at various European venues, entitled Ukraine's Euro-Atlantic Future.
Amidst millennial celebrations and expectations two decades ago, Ukraine and the United States began an exchange of increasingly strong signals intimating that their ties should be closer—that, in fact, their relationship should ultimately take on strategic coloration.
In December 1999, both the executive and the legislative branches of Ukraine's government—the Presidential Administration and the Verkhovna Rada—took clear steps to indicate a serious interest in pursuing a course of 'eventual integration into the structures of the Euro-Atlantic world'. Their 'message' was answered by Secretary of State Madeline Albright during a speech delivered at Johns Hopkins University in January 2000 in which she named Ukraine as one of the four key countries with whom the US had to deepen bilateral economic and security relations.
In short order, Ukraine's Foreign Minister Borys Tarasyuk responded with an energetic embrace of Secretary Albright's position and proceeded to append a dimension to the envisioned links—coordinated responses to diplomatic issues of common concern. In June 2000, President Clinton, during his final visit to Kyiv, raised the 'engagement' bar significantly higher by referring to US-Ukrainian relations as a 'strategic partnership'. The Ukrainian leadership lost no time replying; it wholeheartedly endorsed the assessment. President Bush's inaugural trip to Europe in June 2001, and particularly his visit to Warsaw, yielded one more message on the subject, possessing what might be characterized as 'critical mass'. The newly elected American leader expressed a clear desire to retain the term 'strategic partnership' to describe the relationship between the United States and Ukraine, emphatically underscoring the bipartisan nature of US support for Ukraine's "Western" geopolitical aspirations. (1) (2)
US-UA WG YS IV Highlights
US-UA SD VII Items of Note